Apprenticeship Opportunities
Visit the gov.uk website to find out more about apprenticeships.
Thales Apprenticeship Programmes
We will be opening for applications on 20th December 2018 until 13th January 2019. Applications can be made via our Early Careers website http://www.ukearlycareers.thalesgroup.com
Apprenticeship Programmes
An apprenticeship is an excellent way to achieve a qualification, alongside valuable work experience whilst avoiding university debt!
Apprenticeships are well suited for GCSE school leavers looking to start their career, A Level school leavers considering university, or experienced individuals looking for a career change with the ambition to work their way up.
We will be offering the following apprenticeship programmes:
• Software Engineering (BSc Digital and Technology Solutions – software engineering)
• Hardware Engineering (BSc Digital and Technology Solutions – network engineering)
• Engineering/Manufacturing Apprenticeship (HNC)
• Engineering/Manufacturing Apprenticeship (BTEC)
• Modern Apprenticeship for Manufacturing Technicians (Glasgow)
• Rail Technician
• Software Development Graduate Level Apprenticeship (Glasgow Only)
---
Degree Apprenticeships- APPLY NOW
CGI Degree Apprenticeship 2019 - Winchester University - BSc (Hons) Digital & Technology Solutions
To have or be predicated to achieve at least 120 UCAS points across three A-Levels (or equivalent) at grade C or above (excluding General Studies) gained in the same academic year or a completed Advanced IT Apprenticeship
About the Degree
The BSc (Hons) Digital & Technology Solutions Degree Apprenticeship covers the key concepts and competencies in digital and technology management. You will gain the knowledge, skills and insights that are key in the industry today and in the future. Using industry specific technology and equipment, you will also develop the technical, business, interpersonal and behavioural knowledge and skills to operate professionally in the workplace.
APPLY - https://www.cgi-group.co.uk/careers/school-and-college-leavers/apply-now
Ministry of Defence Engineering Degree Apprenticeship – 2019
Candidates must:
•Have 5 GCSE grade A* to C or Grades 4 - 9 (or equivalent) including English, Mathematics and Science / Engineering subject plus two additional subjects.
•Have or be studying for 'A' levels (or equivalent) in Mathematics and either Physics or Chemistry or other Engineering related subjects and one other subject. Typically two B's and one C grade by August 2019.
APPLY - https://www.civilservicejobs.service.gov.uk/csr/jobs.cgi?jcode=1604419&utm_source=Indeed&utm_medium=organic&utm_campaign=Indeed
BBC Data Science Degree Apprenticeship – 2019
Based in London with BBC Design and Engineering teams, you'll get to work at the heart of Data Science at the BBC, all while studying for a BSc degree with a UK University and completing this industry designed apprenticeship.
The minimum academic criteria is at least 112 UCAS points (300 if before 2017), including a Maths A level or equivalent qualification or closely related subject.
APPLY - https://careershub.bbc.co.uk/members/modules/job/detail.php?record=31142&jobboard=indeed&c=organic
EDF 2019 Civil Engineering Degree Apprenticeship with Exeter University
Once you've completed the apprenticeship, you'll have a full BEng Civil Engineering Site Management degree from the University of Exeter, as well as 5 years of experience with EDF Energy. Alongside this, you'll work towards gaining your IEng qualification with the Institute of Civil Engineers (ICE).
Three A-Levels (at Grade C or above), including Maths and a science subject or A-Level Maths and a relevant BTEC Extended Diploma (2010) or a relevant BTEC Extended Diploma (2016), dependent on the modules studied. Full entry requirements can be viewed on the University of Exeter website.
http://www.exeter.ac.uk/undergraduate/degrees/engineering/civil-engineering/#Entry-requirements
APPLY - https://careers.edfenergy.com/job/Bristol-2019-Civil-Engineering-Degree-Apprenticeship/494917601/?feedId=228301&utm_source=Indeed
JAGUAR Commercial Degree Apprentice – Finance

Joining the Degree Apprenticeship Scheme within Finance could involve diverse roles such as Accounts Payable, Marketing Sales & Service; Finance, Business Assurance, Supplier Risk and Tax.
For those interested in entering the world of Finance, you'll need 300 UCAS points/120 new tariff UCAS points, gained from three A Levels, one of which must be a B Grade in a numerical or business-related subject (Maths, Physics, Economics, Business Studies, Accounting, etc.)
CLOSING END DATE: 14/12/2018 APPLY - https://www.jaguarlandrovercareers.com/job/Coventry-Commercial-Degree-Apprentice-Finance/492303101/?feedId=227201&utm_source=Indeed&utm_campaign=JLR_Indeed&source=Indeed
AIRBUS Engineering Degree Apprenticeship
Our Engineering Degree Apprenticeship offers a full degree with no fees, plus vocational training with a regular salary. The first of its kind in the UK, Airbus is leading the way with this unique 4 year programme through which you will achieve a BEng in Aerospace Engineering following the design pathway, and work towards a professional IEng level award.
In order to be eligible for this apprenticeship you must have a minimum of:
Two A Levels at grade B in Maths and C in Physics or Chemistry (or alternatively a BTEC Engineering Level 3 qualification at grade triple distinction; D* D* D*)
GCSE English Language at grade C or 4.
APPLY - http://company.airbus.com/careers/jobs-and-applications/search-for vacancies~jobid=001A4B0A914A1EE8B3AD24982BB54605~.html?utm_source=Indeed&utm_medium=organic&utm_campaign=Indeed
ERM Geospatial Mapping and Science Degree Apprenticeship
You will learn the discipline of interpreting and analysing geospatial data; use leading edge digital technology [such as laser scanning Geographic Information Systems, remote sensing and imagery] and provide data analysis and advice for mapping, satellite navigation systems (Satnavs) and Global Positioning Systems (GPS), a wide range of innovative technologies; to provide strategic advice and recommendations based on this analysis.
Applicants must have a minimum of three A levels at Grade C or higher.
APPLY - https://erm.wd3.myworkdayjobs.com/en-US/ERM_Careers/job/London/Geospatial-Mapping-and-Science-Degree-Apprentice--Entry-Level-_R00001558
BBC Broadcast Engineering Apprenticeship Scheme
This is an exciting opportunity to get into the world of work, earn money, and gain a degree in Broadcast Engineering. The degree is fully funded, including your accommodation whilst at university. The minimum academic criteria is at least 112 UCAS points (300 if before 2017), including a Maths A level or equivalent qualification or closely related subject.
Application process:
18th December- Online application form closes
28th December - Candidates notified whether they are through to the video assessment stage
3rd January - Deadline for candidates to complete video assessment
22nd January - Candidates notified by this date whether they have been selected for an assessment day
28th January - Assessments held this week in Birmingham
---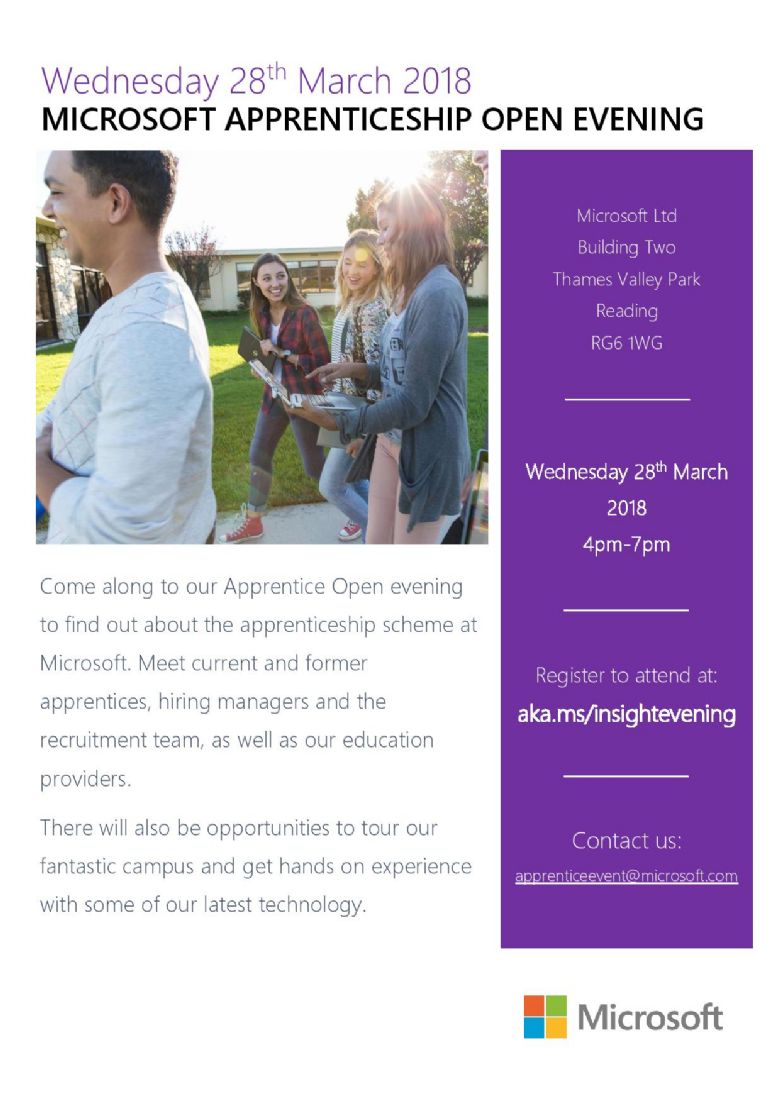 Accountancy Apprenticeships Vs University: Any Questions
27 March 2018 6:30-7:30pm
First Intuition are holding an information evening for parents and students (Years 11-13). The aim of the evening is to find out about the different routes of starting a career in business via an accounting qualification.
One route is via an apprenticeship in accounting. This is a great alternative to going to University. An apprenticeship lets you learn on the job, develop knowledge and skills, gain an AAT accounting qualification and earn money – all at the same time
We will explain the different routes including the what, why, who and how of apprenticeships. One of our employers, Moore Stephens will be attending with two of their students. They will be sharing their journey to qualifying as an accountant. Please see the flyer for more details.
---
Apprenticeship Careers Fair
Bracknell & Wokingham College will be once more celebrating National Apprenticeship week this year by holding their 2nd annual Apprenticeship Careers Fair on Weds 7th March 10am – 6pm and would like to extend the invitation to Maiden Erlegh School.
Based on last year's incredibly successful event of over 700 attendees they now have 24 local companies who have taken a stand and will be there to talk about and promote the careers paths and apprenticeship opportunities that they have at their companies alongside their own Apprenticeship team who cover 15 career areas. Some of the companies who will be attending are; Berkshire Health NHS Foundation Trust, Blue Apple, Care line, Chancellors, Chartered Institute of Credit Management, Clarkson Evans, Dimensions, Fujitsu, Hilton, Lloyds Register, LEGOLAND, Network Rail and many more.
This is a great opportunity to find out more about Apprenticeships schemes, how they work, how to apply, the different levels including Higher Apprenticeships and what they can offer as an alternative to University. This event is of particular interest to Year Groups 10,11,12 & 13.
If you would like to attend or would like more information on the event please contact Mr Buck.
---
Apprenticeship opportunities
Please click on the links below to discover apprenticeship opportunities that are currently available to students;
AWE - If you are thinking about applying for an engineering apprenticeship then the AWE applications process for the 2018 intake of apprentices is currently open and will close at the end of January 2018.
Please see below apprenticeship vacancies for maintenance and engineering technicians available with BMW.
Learners can also view all of the positions available at BMW https://www.bmwgroup.jobs/gb/en/jobs.html#jobType=APPRENTICESHIP&&location=GB our general careers page link is www.bmwgroup.jobs/uk
If any students are interested in these vacancies they can apply through the national apprenticeship service website via the links above.
BPP Professional Apprenticeships
Higher and Degree Apprenticeships
James Cowper Kreston- Chartered Accountants
KPMG Apprenticeship Programmes
Peter Brett Associates LLP Apprenticeships
Our current vacancies are within our Reading Office. Please see the links below for the posts available. Please be advised the closing dates for applications is 4th April 2018.
We are looking for enthusiastic, professional, hardworking individuals who are willing to learn and determined to succeed.
Candidates must be 16 years or older with a minimum of 5 GCSEs grades A - C including Maths and English. Apprentices will follow 13-15 months Advanced Apprenticeship framework (Level 3) in Business Administration or in Finance/Accountancy.
For any queries please contact us via apprenticeship@prudential.co.uk
Reading College Apprenticeships
Surge in Volunteers to Support Careers Education in Schools and Colleges
Please see below for apprenticeship opportunities;
SSE is one of the "Big Six" companies which dominate the UK energy market and they are now recruiting for new apprentices. Applications close on the 18th March.
Requirements vary dependent on scheme (details below) but SSE do aim their apprenticeships at those with at least 3 GCSEs (including Maths, English and Science) and those who have/are completing A Levels (or equivalent).
Engineering Craft Apprenticeship
Thales- Apprenticeship opportunities for September 2018 are now live on their early careers site for people to apply for. Thales have a number of engineering and business opportunities at a variety of levels across the UK.
West Berkshire Training Consortium